Divorce is never an easy process, but when your spouse refuses to agree to a divorce in Illinois, it can feel like you are stuck in a helpless scenario, unable to move forward. Not only does this inflict further emotional frustrations and trauma as you try to file for divorce and start a new life, but it can also complicate potential plans for your future. Luckily, if you are seeking a divorce from your spouse in Illinois, and they refuse to agree, several legal options are available to help you proceed with a divorce.
The team at Vahey Law & Mediation, LLC, is standing by to help with your case and provide available options if your spouse is unwilling to agree to a divorce. With years of experience in divorce law, our team will help you navigate your case and maintain your divorce rights.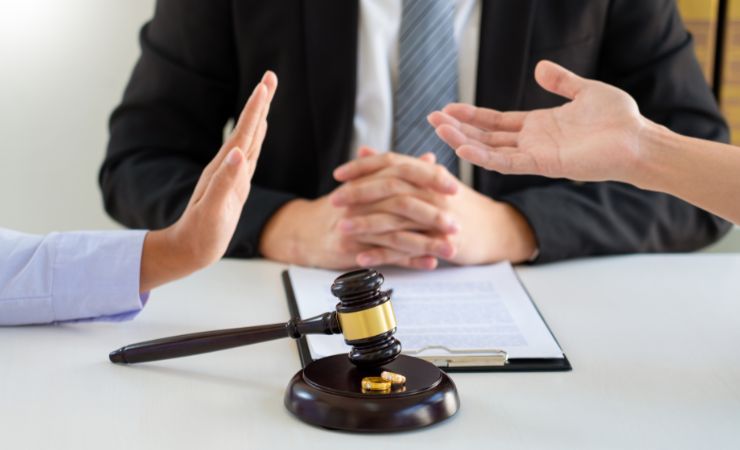 What Is the Law on Both Spouses Agreeing To Divorce in Illinois?
It is not necessary for both spouses to agree to a divorce to dissolve a marriage in the state of Illinois. There are legal ways the other spouse can continue the divorce filing if one spouse refuses to go through with a divorce. Illinois law has specific preventative measures in place for these situations, whether the spouse is avoiding or refusing to engage with the process or respond to petitions.
Unfortunately, it is likely that in these circumstances, a divorce will take considerably longer if the reason for the divorce at hand is "no-fault," and it will have to be filed under irreconcilable differences. This means if your spouse denies that your lifestyles and union are incompatible, the only option is to live apart for six months or more to prove the presumption of incompatibility. This situation can be tricky to navigate, so it is important to hire a strong legal team during this process to assist with the correct steps you need to take to prove irreconcilable differences.
What Reasons Would a Spouse Have To Refuse To Sign Divorce Papers?
There are several reasons a spouse would want to refuse to agree to a divorce which range from personal beliefs to fears and other factors. One of the more common reasons a spouse might refuse to agree to a divorce is religious reasons, seeing it as immoral to end a marriage. Similarly, your spouse might have societal fears, such as judgment from friends and family, for getting a divorce, or they may refuse to agree out of denial that your marriage is no longer working. In these cases, proving incompatibility will likely be necessary to proceed.
Finances may be another reason some spouses would refuse to agree to a divorce. If the spouse is unemployed or has a smaller salary, they may be worried about their financial stability outside of your marriage. A possible solution to expedite a divorce agreement under these circumstances is to offer more financial benefits to your spouse in the divorce. While this option can be significantly more expensive, it could lead to a faster agreement.
Unfortunately, some spouses will refuse a divorce if they have committed domestic abuse and are worried a divorce would mean their misdeeds become public knowledge. In this case, it is important to quickly file a domestic violence claim and prepare a legal team to ensure your divorce is authorized based on crimes committed in your marriage and for your safety.
What Happens in the Event You Are Unable To Serve the Other Spouse?
You must prove that reasonable efforts to locate your spouse were made if you are unable to contact or serve them divorce papers. In the event these efforts are unsuccessful, it is possible to serve a spouse through a newspaper or similar publication, which is a process known as "default by publication."
Securing a divorce through default by publication requires that you have completed the proper filings and paperwork with a clerk, proving that the spouse is unreachable. It is also important to explain the methods used to attempt to reach your spouse, such as online listings, social media profiles, family members, etc., to the judge over your case.
Is It Possible To Get a Divorce if Your Spouse Refuses To Sign the Divorce Papers in Illinois?
Once a spouse has been served in the traditional way or by another court-approved method, they have 30 days to respond. You can request a default divorce, schedule a hearing, and undergo a final review, in which Illinois judges will make a final verdict if your spouse has not responded within this time. Often in the case of an individual applying for divorce under these circumstances, the judge will rule in favor of your case and the terms you set regarding child support, alimony, and property division.
FAQs
Q: What Do I Do if My Spouse Refuses To Abide by the Court's Ruling?
A: If your spouse refuses to abide by a court-ruled divorce, you can file to have them held in contempt of the court. An arrest order will be issued, and if the court does find they are in contempt, they will be brought before the court to give the reasons for their violations.
Q: Can a Spouse Refuse Divorce in Illinois?
A: While a spouse is allowed to disagree with the terms of a divorce, this will just delay the process. There are steps that can be taken to ensure the divorce carries through via irreconcilable differences.
Q: What Is a Wife Entitled to in Divorce in Illinois?
A: According to Illinois law, it is typical for about 30% of the paying spouse's gross income to be given, subtracting around 20% of the receiving spouse's gross income.
Q: What Happens if a Spouse Doesn't Agree to a Divorce?
A: To ensure the divorce goes through, the individual filing for divorce will have to prove irreconcilable differences in a court of law if the spouse does not agree to a divorce.
Representation From an Experienced Divorce Attorney
It is important to have an expert attorney to assist in helping you uncover all legal options available if you are seeking a divorce from a spouse who is refusing an agreement. To get started, be sure to contact the knowledgeable divorce attorneys at Vahey Law & Mediation, LLC, today.