Going through a divorce is an emotional process that is rarely simple. Because of this, many people who are thinking about getting divorced or who have just begun the process find themselves wondering how long it will all take.
Divorce Types and How Long They Last
How long your divorce actually takes will depend on a variety of factors unique to your situation. The kind of divorce that you are going through most often has the largest impact on the time it takes to finalize.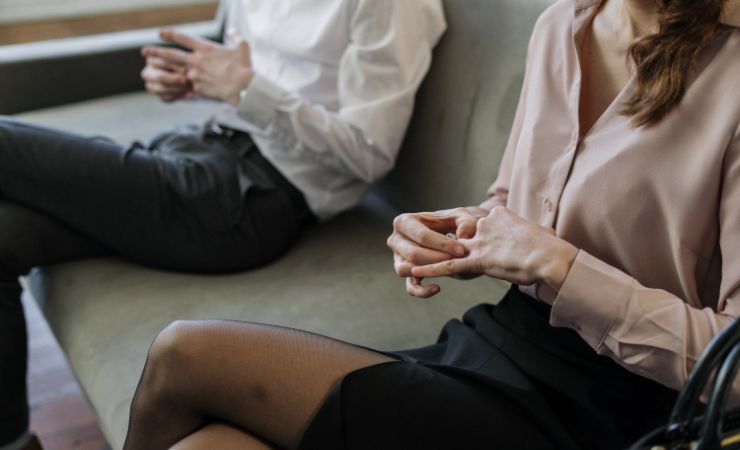 Uncontested Divorce
An uncontested divorce occurs when a couple can come to agreements on all aspects of their divorce, including child custody, property division, and more. In Illinois, most couples file for an uncontested divorce together, and in some cases, they even share a lawyer. By filing for an uncontested divorce, a couple can avoid litigation completely. The terms of their divorce must be seen as reasonable and approved by the court. If a couple can reach a fair agreement on all complex issues, the divorce process can be completed quickly. Uncontested divorces can be finalized in as little as two months or as long as a year.
Contested Divorce
When a couple is unable to come to agreements on different matters of their divorce, it is known as a "contested divorce." In a contested divorce, a couple must go through the local court for each of their disputes and wait for a judge to decide on them. In most cases, a contested divorce involves multiple conflicts that a couple needs assistance with. However, a divorce can be considered contested even when a couple agrees on all other matters but disputes over one. Because contested divorces must go through multiple court dates, they often take longer to be finalized. On average, a contested divorce takes anywhere from six months to a year or more in Illinois.
Divorce Through Mediation
Divorce through mediation, otherwise referred to as "mediated divorce," occurs when a couple decides to take a proactive approach to their separation and work with a professional mediator. Mediation provides a constructive, comfortable environment where a separating couple can communicate with each other and come to agreements on divorce matters. Using their mediation skills, a mediator can help the couple better communicate by hearing each spouse's reasoning and helping them find compromises. Mediated divorce is another method that allows a couple to avoid litigation in court if a judge approves all the agreements. In general, the average mediated divorce takes around three months to finish.
Joint Simplified Divorce
A joint simplified divorce is a type of uncontested divorce that is only available to eligible couples. Filing for a joint simplified divorce is one of the quickest methods to legally dissolve a marriage in Illinois. There are several qualifications to be eligible for a joint simplified divorce:
You must not have had any children throughout the marriage.
No spouse can currently be pregnant by the other.
At least one spouse meets the residency requirements.
The marriage must have lasted eight years or less.
A joint simplified divorce is like an expedited divorce, which allows it to be finalized quickly. On average, joint simplified divorces can be completed within just a few weeks, depending on how quickly you can schedule a court date.
Factors That Impact the Length of Your Divorce
In addition to the type of divorce you are going through, there are multiple other factors that will play a role in how long it takes to finalize your divorce, including:
If there are children involved
The level of conflict involved
The amount and value of assets involved
The amount of debt collected
If there were existing agreements, such as prenups, in place
The court's schedule and how quickly you can get in
The amount of time it takes your spouse to respond after being served
FAQs
Q: How Do I File for Divorce in Illinois?
A: Before filing for divorce in Illinois, it is important to ensure you meet the eligibility requirements. Once you know you are eligible, you will most likely need an attorney so that you can begin filling out the designated paperwork that asks about basic information. Once you have finished, you will pay the court the set fee for your county and then file your petition for divorce.
Q: Is There a Mandatory Waiting Period for Divorce in Illinois?
A: There is no mandatory waiting period for individuals going through divorce in Illinois. After you have served your spouse their divorce papers, you must give them 30 days to respond. After that, the case can begin to be processed as soon as possible. Your attorney can help you prepare the paperwork and guide you through the next steps.
Q: How Much Does Divorce Cost in Illinois?
A: The total amount your divorce will cost depends on a wide range of factors, such as the kind of divorce you are going through, how long it takes, if there is a great deal of conflict, and the rates of your attorney. You should always discuss fees with your attorney so that you may have consistent representation throughout your divorce process.
Q: How Is Property Divided in Illinois?
A: The state of Illinois follows a method known as "equitable distribution" when dividing marital property in a divorce. This means that all property that was acquired during the marriage will be divided fairly between the spouses, but not necessarily equally. You will need the help of an expert divorce attorney when negotiating the division of assets.
Illinois Divorce Representation
Here at Vahey Law & Mediation, LLC, our team is committed to helping our clients through difficult times. As experts in family law, we understand just how difficult going through a divorce can be. That is why we offer a variety of legal services, such as divorce representation and mediation, to assist you. If you are going through a divorce in Illinois, do not wait to get the legal assistance you need to make the process easier on you. To learn more about our team at Vahey Law & Mediation, LLC, and the services we offer, contact our team today.